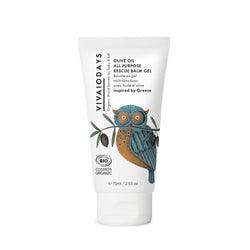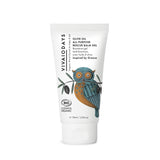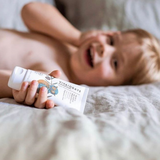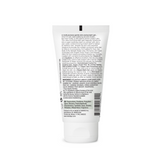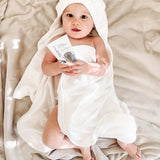 Olive Oil All Purpose Rescue Balm Gel
Unique Balm gel, transforms to cream when in contact with skin
Made of 8 ingredients, Multipurpose for every home
Best for Moisture Occlusion (based on clinical test)
Soothes and Treats any skin irritations
100% Natural, 97% Organic. NO petrolatum, Fragrance free
       75 ml/2.53 oz
Best for Baby, Mom & Everyone
This ultra-nourishing balm-gel magically transforms into a super soothing cream on contact with skin's own water content to bring instant relief to baby's skin and a parent's mind! Apply a very small amount to diaper area once or twice a day on clean, dry skin. Can be used with cloth diapers too.
This 96.8% Organic soothing/calming balm-gel is great for nursing Moms. Apply a very small amount on your nipples before breastfeeding. No need to rinse because it is edible, vegan & gluten free.
Apply to clean, dry skin a small amount of the balm-gel as often as needed. Avoid eye area. Ideal for the whole family.
Use it whenever your skin is asking for deep nourishment. Avoid eye area.
Unlike any water based hand cream, the natural lipids of the organic olive oil give deep nourishment to your dry from alcohol hands. Use it as often as needed.
Use it throughout the year and especially in winter when our lips are particularly dehydrated. Number 1 winter lip treatment according to "60-millions-de-consommateurs" survey in France.
Use it daily on rosy cheeks. For cradle cap apply massaging very gently. Wash it out after 15 min with our Saponaria Wash & No-Tears Shampoo
Use it as often as needed. Usually, the after-sunburn products just cool down the sunburned skin, but they don't hydrate it enough to prevent skin dryness. Our Olive Oil Balm Gel is a micro emulsion that combines the freshness of a gel with a long-term hydration, since it is loaded with nourishing oils that moisturize with no sense of greasiness.
Provides moisture and decrease discomfort. Use it as often as needed.
This heroic skin-saver is boosted with Organic, Cold Pressed, Extra Virgin Olive Oil from Greece providing multiple skin benefits. it is an emollient, antioxidant and nourishing ingredient.
It retains maximum moisture, maximizes actives' penetration.
It freshens and tones. When combined with Sweet Almond and Sunflower Oils, it creates an excellent shield against skin irritations, small cuts and skin infections
Loaded with nutrients and antioxidants like Vitamin E, Organic Sunflower and Sweet Almond Oils that elevate the formula's soothing properties. Shielding the skin with essential moisture and providing the mildest nutritional value due to little-to-no processing.
HELIANTHUS ANNUUS (SUNFLOWER) SEED OIL*, GLYCERIN*, PRUNUS AMYGDALUS DULCIS (SWEET ALMOND) OIL*, SUCROSE LAURATE, OLEA EUROPAEA (OLIVE) FRUIT OIL*, SUCROSE STEARATE, CITRUS AURANTIUM DULCIS (ORANGE) FRUIT WATER*, TOCOPHEROL. * From organic farming. 100% Natural. 96.77% Organic.
A small pearl size amount does wonders!
Free From
Preservatives, Parabens, Propylene Glycol, Silicones, Petrochemicals, Ethanolamines, Synthetic Dyes, Alcohol, Phthalates, Wheat/Nuts/Gluten, Fragrance, GMOs
THE EUROPEAN ORGANIC CERTIFICATION STANDARD: 100% Natural, 96.77% Organic

CERTIFIED LEAPING BUNNY CRUELTY FREE

100% VEGAN
INSPIRED BY GREECE
Olive Oil was used widely by ancient Greeks. But even today, is still used to anoint a baby's skin. The illustrated Owl is a symbol of Athena, Goddess of Wisdom in Ancient Greece.