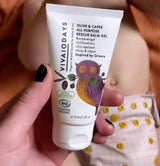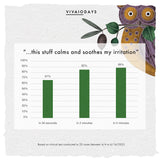 Olive & Caper All Purpose Extra Soothing Rescue Balm Gel
Inspired by the first skin ointment created by Hippocrates, the father of modern medicine
Our elevated formula of potent rich oils & extracts, such as Olive oil, Caper, and Bisabolol, is packed with Antioxidants, Vitamin E, Squalene, & essential fatty acids.
This blend is transformed into a balm gel micro-emulsion texture, which provides the following benefits:
☑️Extra soothing for dry, irritated & sensitive skin*
☑️ Protects natural skin moisture
☑️ Maximizes infusion of actives to enhance skin hydration*
* Based on Clinical Tests
Ideal for newborns & everyone else. A skin savior for the face, lips, and body (including diaper rash, dry skin, topical redness, and chapped lips). It leaves no greasiness. A very small amount does wonders!
Dermatologist-tested for sensitive skin, Vegan & Gluten Free


37 ml/ 1.25 oz
*Some promo codes do not apply to this product
Best for Baby, Mom & Everyone
This extra soothing balm-gel bring instant relief (clinically tested). Whether from environmental factors, allergies, or sensitivities, its ingredients can calm and reduce any skin irritation even on the most sensitive skin. Apply a very small amount to irritated area as often as needed.
Our formula can help alleviate the symptoms of eczema, including itching, redness, and inflammation. The anti-inflammatory effects of caper extract and bisabolol may provide relief for individuals with psoriasis by reducing redness and scaling. They also can help manage the redness and flushing associated with rosacea. Ideal for the whole family.
This soothing balm gel can help reduce itching and inflammation caused by insect bites and stings. Apply a very small amount as often as needed.
Use it throughout the year and especially in winter when our lips are particularly dehydrated.
Use it daily on rosy cheeks.
Usually, the after-sunburn products just cool down the sunburned skin, but they don't sooth it enough to prevent skin dryness. Caper extract and bisabolol have soothing and anti-inflammatory properties that can help alleviate redness and discomfort caused by sunburn. Use it as often as needed.
For those with sensitive skin, this product containing caper extract and bisabolol can provide a gentle and soothing skincare routine. Caper extract can promote skin hydration, and bisabolol helps to lock in moisture, making them beneficial for individuals with dry or dehydrated skin. Bisabolol, may help improve the appearance of an uneven skin tone by reducing the appearance of dark spots and promoting a more even complexion. Caper extract's anti-inflammatory and antibacterial properties, combined with bisabolol's soothing qualities, may be effective in treating acne and reducing blemishes.
This heroic skin-saver is boosted with Organic, Cold Pressed, Extra Virgin Olive Oil from Greece providing multiple skin benefits. it is an emollient, antioxidant and nourishing ingredient.
Both have soothing, antibacterial and anti-inflammatory properties. Caper extract can also promotes skin hydration. Bisabolol helps to lock in moisture. Both ingredients are very beneficial for those with dry or dehydrated skin.
It retains maximum moisture, maximizes actives' penetration.
It freshens and tones. When combined with Sweet Almond and Sunflower Oils, it creates an excellent shield against skin irritations, small cuts and skin infections
Loaded with nutrients and antioxidants like Vitamin E, Organic Sunflower and Sweet Almond Oils that elevate the formula's soothing properties. Shielding the skin with essential moisture and providing the mildest nutritional value due to little-to-no processing.
HELIANTHUS ANNUUS (SUNFLOWER) SEED OIL*, GLYCERIN* PRUNUS AMYGDALUS DULCIS (SWEET ALMOND) OIL*, SUCROSE LAURATE, OLEA EUROPAEA (OLIVE) FRUIT OIL*, OCTYDODECYL MYRISTATE, CAPPARIS SPINOSA FRUIT EXTRACT, BISABOLOL, TOCOPHEROL, CITRUS AURANTIUM DULCIS (ORANGE) FRUIT WATER*, SUCROSE STEARATE, AQUA/WATER * From organic farming. 100% Natural. 95.72% Organic.
Free From
Preservatives, Parabens, Propylene Glycol, Silicones, Petrochemicals, Ethanolamines, Synthetic Dyes, Alcohol, Phthalates, Wheat/Nuts/Gluten, Fragrance, GMOs
THE EUROPEAN ORGANIC CERTIFICATION STANDARD: 100% Natural, 95.72% Organic

CERTIFIED LEAPING BUNNY CRUELTY FREE

100% VEGAN
INSPIRED BY GREECE
This skin savior is inspired by the first skin ointment created by Hippocrates, the father of modern medicine. The illustrated Owl is a symbol of Athena, Goddess of Wisdom in Ancient Greece.