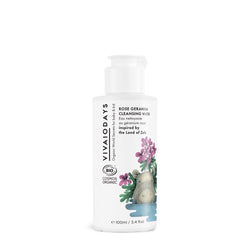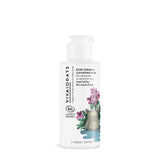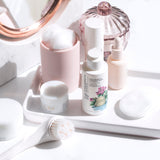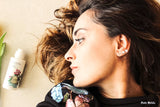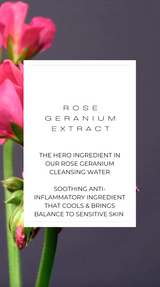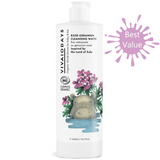 Rose Geranium Cleansing Water
Ideal to clean a baby's skin between baths
A great daily face cleansing and makeup removal
Safe for eyes area, Ophthalmologist tested
Refreshing, no irritating, balancing pH
98% Organic cleansing agents and active waters, No synthetic cleansing agents, contains only 0.6% plain water
This beautiful soap-free skin tonic is designed to gently cleanse, soften and soothe even the most delicate skin. Apply, using a soft cloth or a cotton pad and pat dry -no need to rinse.
It is the greenest make-up remover for face, lips & eyes. This pH-balancing alcohol free toner can: Refresh tired skin and remove any last traces of dirt, grime and impurities stuck in your pores after you wash your face. Apply, using a soft cloth or a cotton pad and pat dry -no need to rinse.
Rose Geranium is praised for its cooling and anti-inflammatory properties. It is a conditioning skin tonic. Organic Rose Hydrosol or floral water, mildly but effectively, helps restore and bring balance to sensitive skin conditions by soothing irritation and underlying inflammation.
Bitter Orange Peel Extract is well established for its antimicrobial profile.
Yucca has long been known as the 'soap root' thanks to its cleansing and anti-septic properties and it has been used to sooth and calm irritating skin conditions through its antioxidant elements.
It softens, hydrates and soothes even the most delicate skin.
ALOE BARBADENSIS LEAF JUICE*, GERANIUM ROBERTIANUM EXTRACT*, ALOE BARBADENSIS LEAF WATER*, CLYCERIN, LACTIC ACID, SODIUM COCOYL GLUTAMATE, GLYCERYL CAPRYLATE, CITRUS AURANTIUM (BITTER ORANGE) PEEL EXTRACT, ACETIC ACID, CITRIC ACID, CAPRYLYL/CAPRIC GLUCOSIDE, CAPRYLIC ACID, POLYGLYCERYL-6, OLEATE, AQUA/WATER, SODIUM SURFACTIN, SODIUM BENZOATE, POTASSIUM SORBATE, SODIUM HYDROXIDE, YUCCASCHIDIGERA LEAF/ROOT/STEM EXTRACT. *From organic farming. 99.50% Natural. 98.44%Organic.
Free From
Parabens, Propylene Glycol, Silicones, Petrochemicals, Ethanolamines, Synthetic Dyes, Alcohol, Phthalates, Wheat/Nuts/Gluten, Fragrance, GMOs
THE EUROPEAN ORGANIC CERTIFICATION STANDARD: 99.50% Natural, 98.44% Organic

CERTIFIED LEAPING BUNNY CRUELTY FREE

100% VEGAN
INSPIRED BY THE LAND OF ZULU
Rose Geranium leaves are still used by the sage Zulu women healers of Southern Africa. These medicinal plant species are native and wild-collected. The illustrated Hippo is one of Africa's most common animals who spend a lot of time in the water.