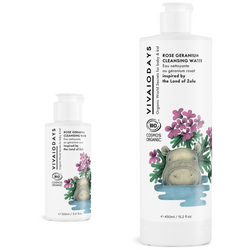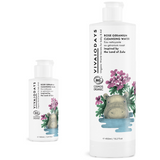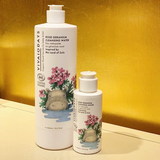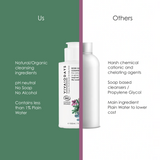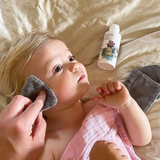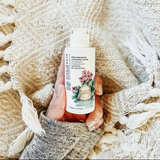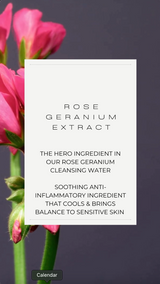 Take In & Carry Out Cleansing Water Bundle
This bundle includes: our value size 15.2 fl. oz. to use at home and our 3.4 oz. carry out size to have it always in your purse or your baby's diaper bag
Our Rose Geranium Cleansing Water is a beautiful pH-balancing, soap and fragrance free skin tonic, with Rose Geranium floral water, Yucca and Bitter Orange designed to gently cleanse, soften and soothe even the most delicate skin.
For easy and safe cleansing On-the-Go or between baths for your baby.
It refreshes tired skin and removes any last traces of dirt, grime and impurities stuck in your pores after you wash your face. Use it also as makeup remover for face, lips and eyes.
Ophthalmologist tested and Dermatologist tested, approved for sensitive skin. Vegan, Gluten & Fragrance free. 
98% Organic ingredients, pH5.5.
It comes in a 100% Sugarcane Recyclable Bottle.
Apply, using a soft cloth or a cotton pad and pat dry-no need to rinse. 

Ingredients: 
ALOE BARBADENSIS LEAF JUICE*, GERANIUM ROBERTIANUM EXTRACT*, ALOE BARBADENSIS LEAF WATER*, CLYCERIN, LACTIC ACID, SODIUM COCOYL GLUTAMATE, GLYCERYL CAPRYLATE, CITRUS AURANTIUM (BITTER ORANGE) PEEL EXTRACT, ACETIC ACID, CITRIC ACID, CAPRYLYL/CAPRIC GLUCOSIDE, CAPRYLIC ACID, POLYGLYCERYL-6, OLEATE, AQUA/WATER, SODIUM SURFACTIN, SODIUM BENZOATE, POTASSIUM SORBATE, SODIUM HYDROXIDE, YUCCASCHIDIGERA LEAF/ROOT/STEM EXTRACT.
*From organic farming. 99.50% Natural. 98.44%Organic.

Some coupon codes do not apply on this special priced product.