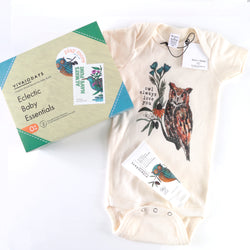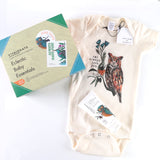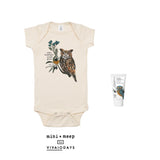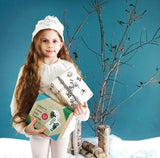 Eclectic Baby Essentials
Each gift set funds 2 School Days
A special edition beautifully packed gift set that includes:
Olive Oil All Purpose Rescue Balm Gel (2.53 oz.): a gentle, skin-saving rescue balm that can be used to save skin, whether baby needs prevention for diaper rash, or mom needs soothing during nursing. A skin savior for any topical skin concern such as dryness, eczema, chapped lips, rough rosy cheeks and cradle cap. Certified 97% Organic formula, dermatologist tested and approved for sensitive skin. Vegan, Cruelty Free, Fragrance Free & Great for the whole family! Learn More
Exclusively designed Onesie by mini+meep inspired by the Owl on VIVAIODAYS Olive Oil Rescue Balm Gel! Designed and hand painted with watercolor and ink. Made from 100% soft organic cotton and printed locally with eco-friendly water-based inks, without the use of harmful chemicals, or artificial dyes. It was tumble-dried to ensure optimal softness and to prevent excessive shrinking. mini+meep products support fair labor practices, create sustainable jobs, protect the environment and help feed children and families in need.
Select Gift Wrapping with Lokta paper if you want it wrapped in a fine, natural, fair trade and handmade in Nepal paper that supports Nepali communities.
If you want add an Order Note at checkout to include a message to your recipient!
All gift sets are eligible for FREE SHIPPING in the USA.