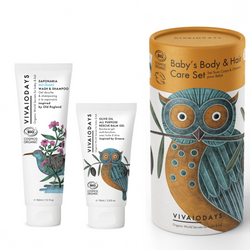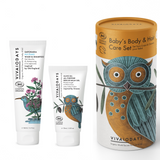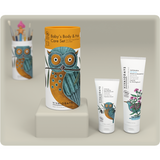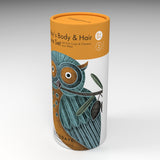 Baby's Body & Hair Care Gift Set
Each gift set funds 2 School Days
Elevate baby's daily body and hair care routine with this gift set that includes:
*Saponaria Soap-free Wash and No-Tears Shampoo (5.1 oz). Very mild, pH neutral, highly concentrated with Glucosides and Saponin-rich Organic Soapwort Extract for rich foam and easy rinse. It creates a happy, tearless bathing experience while calming mild discomforts such as rashes and itching. Ophthalmologist-Tested and Dermatologist-Tested and approved for sensitive skin. Vegan and Gluten Free. Pour a small amount of Wash/Shampoo into the palm of your hand and apply it to a baby's damp scalp, hair & body. Gently lather. Leave it on for a moment & rinse off with water.
*Olive Oil All Purpose Rescue Balm Gel (2.53 oz). A gentle, vegan and fragrance free skin-saving rescue balm gel best to: Prevent diaper rash, Moisturize winter topical skin dryness, Cure hands' hangover caused by the frequent use of a sanitizer, Relieve eczema, Calm nursing mom's nipples, Heal chapped lips, Treat rough rosy cheeks and cradle cap, Relieve Sunburn, Relieve Vaginal Dryness. Vegan and Gluten Free. Use it as often as needed. Apply a pearl sized quantity. No need to rinse. Avoid eye area.
Choose this beautifully packed gift set either as a Holiday or a newborn gift or even a gift for your own baby.
This set is packaged in an FSC Certified Paper Reusable box.
*Certain Coupon Codes do not apply on this product